Refugee Who Paints With a Toothbrush Nominated for Prestigious Art Prize: "My Message Is Love"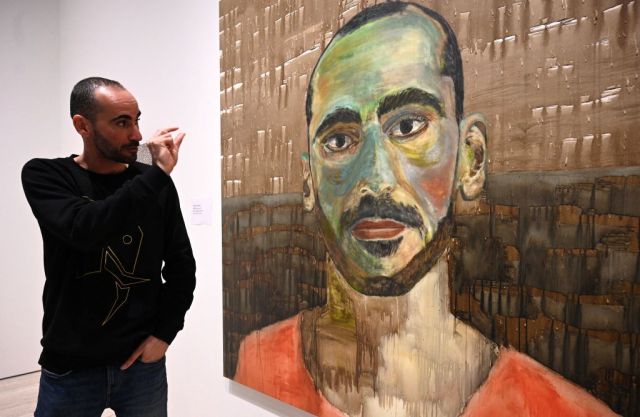 For artist Mostafa "Moz" Azimitabar, no paintbrush is as special as the humble toothbrush
Facing persecution in his birth country of Iran, the Kurdish artist and musician fled to Australia in 2013. Once there, he was entered into the immigration system and would spend the next eight years in detention centers. At his first stop, an offshore camp on Manus Island, Papua New Guinea, Azimitabar turned to art to cope with his emotions.
"I asked one of the officers on Manus: 'Can I have some paint?'… I would like to do some artwork because I don't want to give up'," he recalled. The guard refused his request, citing safety concerns. Azimitabar returned to his shared room, frustrated, but refusing to let it go. The reality of his situation forced him to get even more creative. He decided to work with what he had — in this case, coffee and a toothbrush.
"I don't know what happened … that moment was so special for me. I grabbed the toothbrush and I put it in the coffee and I just dragged it (on some paper)," he said, calling it a "moment of victory." He continued to experiment with the technique throughout his detainment. "Art and painting helped me to be strong, to continue. Because when I paint, I don't feel any trauma."
Then, another moment of victory came over a year after his release in 2021: He was named a finalist for the Archibald Prize, one of Australia's most prestigious art awards, worth over $70,000. His painting, one of 52 chosen from over 800 submissions, was created using a toothbrush, coffee, and acrylics on canvas. It's titled "KNS088," the number the Australian government issued him during his years in detention.
"The message of my painting is love. We are all one family, connected by our humanity."
-Mostafa Azimitabar
—
credits: Rebekah Brandes, Saeed Kahn/AFP, NSW