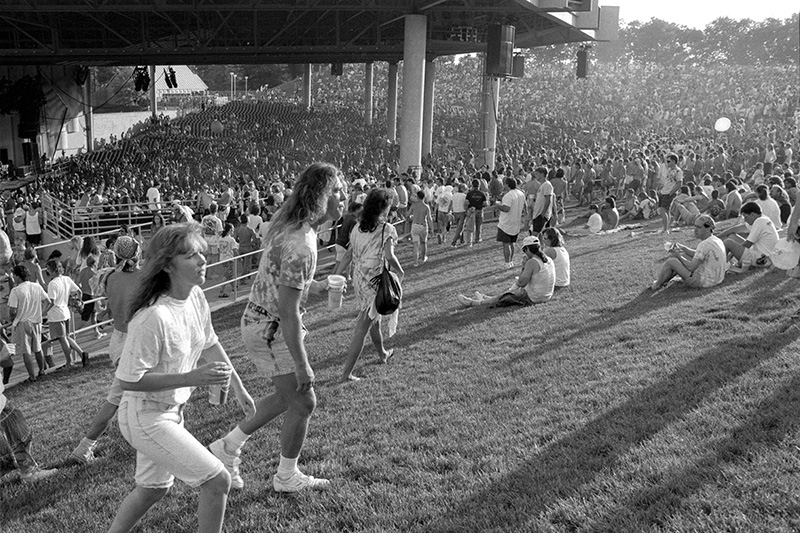 remembering 50 years of magical music memories at pine knob
one of the greatest outdoor amphitheaters ever, and still rocking.
i'm sure you can pick me out here,
on a typical night in the middle of the hill on the lawn
early 70s, where i saw my first live concert, Focus, performing their one hit, "Hocus-Pocus." 
—
Pine Knob. A holy musical pilgrimage for metro Detroiters for 50 years. 
The award-winning theater was christened with a matinee concert by teenage heartthrob David Cassidy on June 25, 1972 (a few days later, old-school crooner Andy Williams and Quincy Jones hosted a five-night run at Pine Knob to mark the occasion). It was the largest venue of its type in the country at the time, currently able to accommodate 15,000 patrons.
A couple of weeks later, the first rock concert at Pine Knob forced the police to shut the place down — a sign that Clarkston's new venue had a little something for everyone. 
When the James Gang rolled into Pine Knob that inaugural summer, an estimated 25,000 "young people" tried to storm the venue. That's according to a report in the Detroit Free Press, which noted that the rest of the "hard rock" concerts scheduled for that summer would be canceled after the ruckus. That included an upcoming show by Detroit's own Bob Seger, who would go on to play more than 25 sold-out shows at the venue over the years.
Maybe you were at that show, or the more than 3,000 other concerts that have taken place there. Thousands have made memories at Pine Knob over the years, whether blurry-eyed ones from the top of the hill or once-in-a-lifetime front row experiences from within the comfort of the pavilion (which, admittedly, could've been blurry-eyed, too).
When Pine Knob changed its name to DTE Energy Music Theatre in 2001, it was those memories that kept the original name alive. Even the bands that played there and recorded live albums there called it Pine Knob. "It's always been Pine Knob to me. I always call it that from the stage," Peter Frampton told Billboard earlier this year. "I am really happy Pine Knob's true identity has finally been returned." (Frampton recorded his 1999 album Live in Detroit at Pine Knob.) For its 50th anniversary, new sponsors made the wise move to tap into that well of nostalgia by bringing back the original name and some of the retro aesthetic to the signage and logo.
—
"you create a community with music, not just at concerts but by talking about it with your friends."
-david byrne
—
credits: photo – james r. anderson, history – ryan patrick hooper, hour detroit, detroit free press